Developer
[Luna]ゆうほ
Platform
Super Mario Maker
Release date
April 14, 2017
Genre
Speedrun
Level ID
64E9-0000-0321-A5FB
疾風怒濤の如く駆け抜けろ!スピードラン~緋桜~ <160S>(ENRomaji Shippūdotō nogotoku kakenukero! Supīdoran ~ hiō ~

Fan Translation: Run through like a rage! Speed ​​Run ~ Hinakakura ~) is a level created by [Luna]ゆうほ and is currently considered the hardest level in Super Mario Maker. The level took the creator 304 hours to beat.
This level was attempted 320,000 times before it received its first clear. The first person to clear this level other than the creator was ゅぅ (Yuu).
Gameplay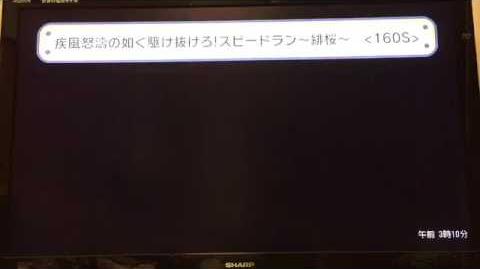 World Record
The current World Record is 2:37:752 minutes held by Luna☆せんぷうき.