Controlled POW Explosion
Difficulty
Intermediate
Works With
POW Block
Game Styles
The Controlled POW Explosion is an intermediate trick used in Super Mario Maker to control which objects are destroyed when a POW Block explodes.
Variations
Coins
A POW block will not destroy every coin onscreen at the same time. Instead, a wave is sent off from the explosion that will only destroy an object it touches. By timing the explosion, it is possible to control which objects are destroyed. However, objects such as Munchers are destroyed immediately.
Normal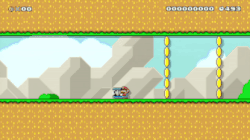 Screen Freeze
Certain enemies are unable to be destroyed during a Screen Freeze, this includes Buzzy Beetles, Munchers, Rocky Wrenches, Spike Tops and Thwomps. Activating a POW during this time makes it possible to have a POW only kill certain enemies that are touching the ground.
See Also