Midair Shell Jump
Difficulty
TAS
Works With
Shells
Symbol
Game Styles

Links
Gallery • Tutorial
The Midair Shell Jump, commonly referred to as simply a Midair, and also known as the TAS Jump is widely considered to be one of the most difficult to pull off tricks in Super Mario Maker.
How It Works
A Midair Shell Jump is done by throwing the shell backwards and redirecting the shell forwards before Mario's throwing animation finishes. When Mario starts his throwing animation there is 1 frame before the shell is thrown. By turning around during this frame the shell is flicked underneath Mario.
Techniques
There are 3 different techniques for doing a Midair Input.
Timing
Doing the midair input at different heights lets you do different variations.
Early
(Surfing Midair)
Normal
Late
(Midair Shellmet)
| Bump | Death / Damage Boost |
| --- | --- |
| | |
Variations
Cape Midair
| Normal | Cape Flight |
| --- | --- |
| | |
Falling Damage Boost Midair
Midair
By shooting a fireball after throwing the shell, it is possible to jump off the shell and kill it at the same time.
Normal
Ledge Midair
Normal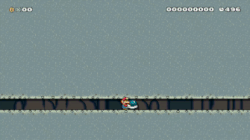 Mini Midair
Normal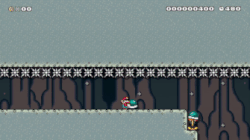 Phase Midair
Cape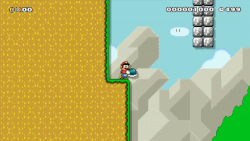 Rising Midair
Double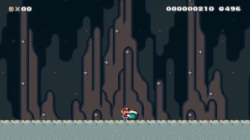 Shellmet Damage Boost
| Normal | Shellmet Swap |
| --- | --- |
| | |
Spinning Midair
Spinning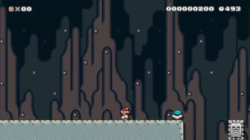 See Also