Shell Jump
Difficulty
Basic
Works With
Shell
Symbol
Game Styles

Links
Gallery • Tutorial
The Shell Jump is one of the most common tricks used in Super Mario Maker. There are many variations of the basic shell jump.
How It Works
Throwing a shell towards a wall at the peak of Mario's jump will cause the shell to rebound off the wall and land under his feet. When Mario throws a shell he is not able to interact with it for ? frames. This means he needs to be at least 2 blocks from the wall in order to bounce off the shell.
Frame Window
When Mario throws the shell, there is a 2-3 frame window for it to land underneath Mario's feet.NoteWhen Mario is close to a wall, there is a 3 frame window. While when Mario is further away from a wall there is only a 2 frame window. The timing for shell jumps as Super Mario in the New Super Mario Bros. U game style is 2 frames later than every other style.
Basic Shell Jump
| Standing | Running |
| --- | --- |
| | |
Variations
Note: See the main page for full variations
Normal
Note: See the main page for full variations
Normal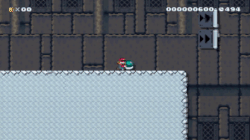 Note: See the main page for full variations
Normal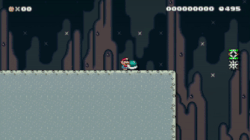 Cape Shell Jump
| Normal | Cape Flight |
| --- | --- |
| | |
Note: See the main page for full variations
Normal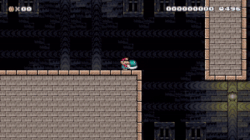 Delayed Shell Jump
Normal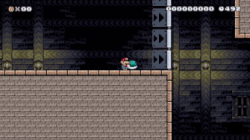 Double Shell Jump
Normal
Note: See the main page for full variations
Normal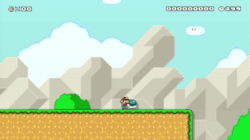 Ledge Shell Jump
Normal
Note: See the main page for full variations
Normal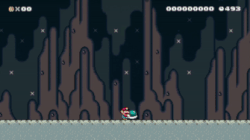 Note: See the main page for full variations
Normal
Note: See the main page for full variations
Normal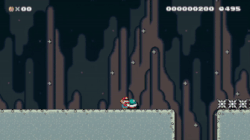 Sideways Spring Rebound Shell Jump
| Normal | Rolling Shell | Spin |
| --- | --- | --- |
| | | |
Note: See the main page for full variations
Normal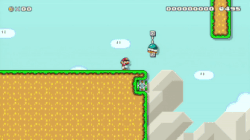 Normal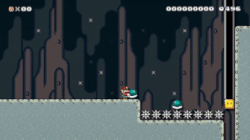 Spinning Shell Jump
Normal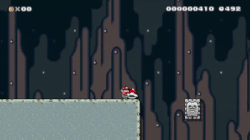 Normal
Track Shell Jump
| Normal | Spin |
| --- | --- |
| | |
Up and Over Shell Jump
Normal
Note: See the main page for full variations
Normal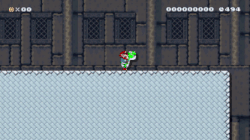 Note: See the main page for full variations
Normal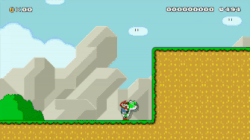 Note: See the main page for full variations
Normal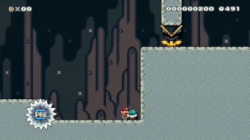 See Also