Sinking in Lava Item Jump
Symbol
How to
Tutorial
The Sinking in Lava Item Jump is an intermediate trick used in the game.
How It Works
When an item falls into lava it will slowly sink. During this time it is possible for Mario to jump off of them.
Mechanics
Mario is unable to land on a sinking POW Block unless it is thrown or makes contact with ground.
Springs that are sinking in lava will not be able to bounce Mario and instead act like a regular platform. An update on version 1.47 made it where springs will still act like springs when sinking in lava on levels created after the update.
Variations
Dropping
Note: This method does not work with a POW Block
| Normal | Ground Pound |
| --- | --- |
| | |
Lava Surfing
Normal
Throwing
Normal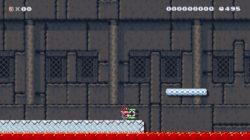 See Also