Thwomp Stack Spin Jump
Symbol
The Thwomp Stack Spin Jump is an intermediate trick used in Super Mario Maker. This trick is only possible as Small Mario.
How It Works
The hitbox for being able to jump on a Thwomp is a few pixels wider than the hitbox for taking damage. Standing directly beside a Thwomp allows Mario to Spin Jump on a Thwomp without taking damage.
Variations
Normal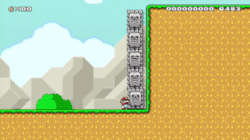 See Also