Triple Jump Chaining
Difficulty
Intermediate
Symbol
Patched
Version 1.47
Game Styles

Links
Tutorial
Triple Jump Chaining, also known as Phantom Jumping, is an intermediate trick used in Super Mario Maker. This trick allows Mario to use the final jump in the first Triple Jump as the first jump in the second Triple Jump which is normally not possible.
As of version 1.47 the normal version of this trick no longer works, meaning that any level that required it is unbeatable.
How It Works
Doing a quick turn-around after a Triple Jump will cancel the Triple Jump animation. This allows the last jump to be used as the start of the next triple jump.
Variations
Left-Right
Note: This only works before version 1.47

Normal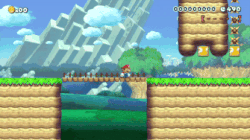 Spring Rebound
Note: This only works on levels created before version 1.47

See Also